Dream Genie

Lady Of The Lamp
Type
Support/Long-Distance Building/Disruption
Mobility
6/10
Toughness
5/10
Complexity
9/10
Primary Weapon
Hand of Nur
Secondary Weapon
Ifrit's Grudge
Tool(s)
Conjuration
Active Skill
Jinx
Passive Skill
Conjuration
Block
Marid's Boon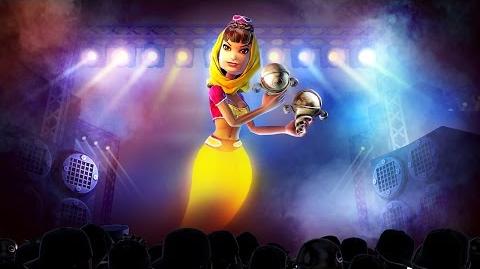 Dream Genie is a kind of magic. Throwing blocks from a distance, turning enemy devices to her advantage, she brings chaos, confusion, magic and mayhem. This lady of the lamp is awaiting your total command.
Hero Tip
Dream Genie's Conjuration allows her to build from long range, support your allies from afar or rain down bombs on your enemies.
Sprint into your enemy's base and use your active ability, Jinx to confuse any nearby enemy blocks turning it against them for a few seconds.
Skills and AbilitiesEdit
| Gear | Description |
| --- | --- |
| Conjuration | Build with magic |
| Dig (LMB) | Digs up any blocks in front of you |
| Build (RMB) | Tool fires a projectile that builds the selected block at hit location. Can deploy signature and generic blocks from afar. |
| Hand of Nur | Shish kebab your enemies with energy spikes! |
| Rapid Fire (LMB) | Rapid fire spikes |
| Shotgun (RMB) | Shoot them all at once |
| Ifrit's Grudge | Explode your enemies with magic orbs! Left-click to , right-click to . |
| Fire (LMB) | Fires fast orbs |
| Launch (RMB) | Launch the heavy orb but stops on contact with blocks |
| Lady Of The Lamp | Cosmic Casual | Electricella |
| --- | --- | --- |
| | | |
Signature Block, Passive & Active AbilitiesEdit
| | | |
| --- | --- | --- |
| Signature Block | Marid's Boon | This djinn lamp drops a buff when destroyed by teammates or a cursed poison cloud when destroyed by enemies. |
| Passive Ability | Conjuration | Tool fires a projectile that builds the selected block at hit location. Can deploy signature and generic blocks from afar. |
| Active Ability | Jinx | Applies DIZZY on nearby enemies and CONFUSED on nearby enemy blocks. |
Hero Progression Edit
| Level | Gameplay Unlock | Visual Unlock |
| --- | --- | --- |
| 1 | Active Ability Cooldown: 90 seconds | Title: Trickster |
| 2 | Build Speed +10% & Gold Bonus: 200G | Badge: Eye of Si'lat |
| 3 | Active Ability Cooldown: 80 seconds | Border: Ifrit's Flame |
| 4 | Jinx Artifact: 130HP | Block Skin unlock |
| 5 | Resources Mined +10% & Gold Bonus: 200G | Title: Seraph |
| 6 | Active Ability Cooldown: 70 seconds | Badge: Marid's boon |
| 7 | Jinx Artifact: 160HP | Border: Marid's Rest |
| 8 | Resources from Objectives +10% & Gold Bonus: 200G | Block Skin unlock |
| 9 | Active Ability Cooldown: 60 seconds | Title: Free Spirit |
| 10 | Jinx Artifact: 200HP & Gold Bonus: 1,000G | Skin unlock |
Available Blocks Edit
Signature Block Edit
Marid's Boon

Recommended LoadoutEdit
| Brick | Force Gate | Fire Trap | Large Bomb | Sandbag |
| --- | --- | --- | --- | --- |
| | | | | |
Additional BlocksEdit
| Crate | Bomb | Glue | Ammo Station | Heal Station |
| --- | --- | --- | --- | --- |
| | | | | |
Name
Level
Effect
Cost
Djinn's Bounty
1

Lamp, Heal Station & Ammo Crate Buildcost -25%




Buildtime +5%

1900G
2

Lamp, Heal Station & Ammo Crate Buildcost -50%




Buildtime +10%

6820G
3

Lamp, Heal Station & Ammo Crate Buildcost -75%




Buildtime +15%

8330G
Magic Builder
1

Builtime -20%




Bricks from kills -10%

1900G
2

Builtime -25%




Bricks from kills -15%

6820G
3

Builtime -30%




Bricks from kills -20%

8330G
Speed Ball
1

Fireball Altfire speed +30%




Fireball Altfire damage -15%

1900G
2

Fireball Altfire speed +65%




Fireball Altfire damage -20%

6820G
3

Fireball Altfire speed +100%




Fireball Altfire damage -25%

8330G