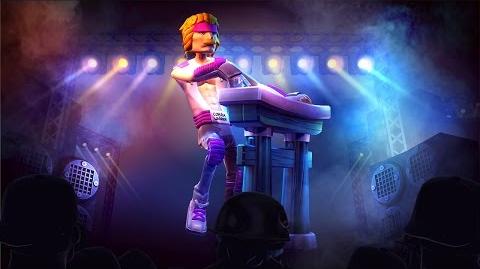 O.P. Juan Shinobi

Juan's a master of motion, light on his feet with unique climbing & supernatural teleportation skills: he'll come out of nowhere! His katana can kill the entire bill if he gets close enough. O.P. may be the no-gun assassin but those ninja stars aren't toys, watch out now!
Quote
I am not Genji.
Type
Scout, Spy, Mobility
Mobility
9/10
Toughness
6/10
Complexity
Primary Weapon
Katana
Secondary Weapon
Shurikens
Tool(s)
Shuko
Active Skill
Vanish
Passive Skill
Wall Climbing
Block
Ninja Shrine
Juan is a ninja warrior, he has a sword, capable of applying bleed, which does a damage over time. He has shurikens, and has an amazing dps. He is considered Overpowered and OP By many, and even in his name is "O.P." I guess he's meant to be this way.
Skills and Abilities Edit
Gear
Description
Shuriken
Shuriken


24 ammunition


| O.P. Robes | 1980 Juan | 2080 Juan | Fixie Juan |
| --- | --- | --- | --- |
| | | | |

| | | |
| --- | --- | --- |
| Challenge | | The Ninja Shrine when placed allows O.P. to teleport back to it at anytime. |
| Cutting edge | Wall Climbing | Demonstrating his Ninja abilities, O.P. can scale up walls |
| Salute | Vanish | Upon using this active he will teleport to the ninja shrine and destroy the block in the progress. OP also leaves behind a bomb which will explode 2 seconds later. |

Voice lines Edit

A Steady Blade

Damn! (said in Japanese: 糞 Kuso)

Prepare yourself! (said in Japanese: 覚悟、Kakugo)

Let's Fight! (said in Japanese: いざ、尋常に勝負 Iza, jinjou ni shoubu)

My Soul Seeks Balance (said in Japanese: 我が魂は均衡を求める waga tamashii wa kinkou wo motomeru)

Not Good Enough (said in Japanese: まだまだ mada mada)

Available Blocks Edit

Signature BlockEdit

Ninja Shrine

Recommended LoadoutEdit

| Caltrops | Fake Block | Bomb | Bounce Pad | Speed Pad |
| --- | --- | --- | --- | --- |
| | | | | |

Additional BlocksEdit

| Crate | Glue Block | Bear Trap | | Brick | Large Bomb |
| --- | --- | --- | --- | --- | --- |
| | | | | | |

Progression BlocksEdit

Shoji Speed Pad
Bamboo Crate

Skin for Speed Pad

Unlocked at level 4

Skin for Crate

Unlocked at level 8